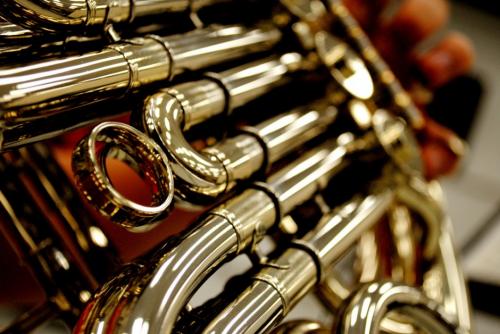 On the fence about auditioning? Well you shouldn't be. Coup de Brass is a fun, low-stress, high-quality group of hornists coming together to experience the epic phenomenon of playing in a horn ensemble. You'll get to play the best passages of great classics AND have the opportunity to dabble in genres rarely written for horn. Which is awesome. If you play horn, at any level, you should audition.
Auditions will be held the weekend of 9/7. Please fill out this form if you are interested!
Requirements:
- Selection of 2 of the following excerpts (your choice):
1) Dvorak Symphony No. 9 (op. 95), IV. Allegro con fuoco, Rehearsal 10-11
2) Tchaikovsky Symphony No. 5 (op. 64), II. Andante cantibile, con alcuna licenza, 7 before A to 8 after A
3) Shostakovich Symphony No. 5 (op. 47), I. Moderato, Rehearsal 17-21.
4) Mussorgsky Pictures at an Exhibition, VII. Allegretto vivo, sempre scherzando, Rehearsal 71-72
5) Strauss Till Eulenspiegel, I. Gemachlich, opening theme (beginning 1)
6) Wagner Short Call (Gotterdammerung), Act I: Siegfried's Rhine Journey, Vivace.
7) An excerpt not listed of similar difficulty, must be preapproved.
- Solo excerpt selection (e.g. ~1 min. or less from a soloistic work, i.e. Gliere Op. 91)
- Sight reading in quartet (no need to prepare)